CrowdFunding Resources
CROWDFUNDING RESOURSES | BOOT CAMP:
A short animated film by Crowdsourcing.org, narrated by Crowdsourcing.org's Founder, Carl Esposti, describing the four different ways Crowdsourcing works and the five different categories of things you can do with crowdsourcing.
See how to tap the power of the crowd for creative projects (Crowd Creativity), to collect and organize knowledge (Distributed Knowledge), how to use the crowd to develop and test new ideas (Open Innovation), to access an on-demand scalable workforce (Cloud Labor) and how to use the crowd to raise capital (Crowdfunding). Also, there are tools you can use to help you with your crowdsourcing initiatives.

https://youtu.be/-38uPkyH9vI

Sequence Media Group is a team of creative visionaries who have built an award winning news, media and communications firm which provides our clients with cutting edge online video communications strategies.


We demonstrate daily, to both our rapidly growing audience and professional clients, how online news syndication and video content development can be artfully merged to achieve a wide range of professional and journalistic objectives. http://alternativeinvestingnews.com

What is crowdfunding and how does it work? In this video the opportunities in crowfunding investing are explained.

Anna Guenther is Cofounder

of PledgeMe,

New Zealand's first

Crowdfunding platform.

How crowdfunding is going to change

the world:

Anna Guenther at TEDxTeAro
Markley S. Roderick concentrates his practice on the representation of entrepreneurs and their businesses. He represents companies across a wide range of industries, including technology, real estate, and healthcare.
Expanding on his in-depth knowledge of capital raising and securities law, Mr. Roderick is spearheading Flaster Greenberg's Crowdfunding Practice. He also is a member of the firm's Mergers and Acquisitions, Business and Corporate, Taxation and Healthcare Groups.
Mr. Roderick has more than 25 years of experience representing individuals and businesses in a wide variety of transactions.
Mr. Roderick writes and lectures frequently for professional groups. Recent lectures have covered raising money from investors, franchising laws, and business contracts.
He also maintains a Crowdfunding blog, which contains news, updates and links to important information pertaining to the JOBS Act and how Crowdfunding may affect your business. For more information, follow Mr. Roderick on twitter @CrowdfundAttny.com or visit www.crowdfundattny.com
Crowd Funding Planning.com is a Business Advisory, Education and Mentoring entity for the New Venture to use CrowdfFunding Methods to get "SeedFunding & StartUp Resources" for your innovative Product or Service. This establishes Brand Identity, while securing a Crowd of initial core-supporters and customers, using the Cloud and Social media marketing. This low cost business support system positions you to seek Secondary Funding in the Angel, Private Equity or Venture Capital environments, with a validated Business Concept and Marketplace.
Our main focus is to guide the raising of "Seed Funding" for SMBs, StartUps and Entrepreneurs using Cloud and Crowd sourcing Technology. We are in the Networking Age ( relationship formation ) not the " Information Age" (accumulating data). VCs and Angles pass their B+ and A- candidates to us for Advise and Counsel to build their business venture to the point that they can build and successfully achieve a CrowdFunding Campaign. This is a Strategic Validation of the business concept and the Market (Crowd) in a " proof of concept ". The Crowd is never wrong and along that path, the "fine tuning" process is a natural bi-product of the CF Campaign.
The following short video will debunk in less then 4 min.
What is Crowdfunding? CrowdFunding planning? What, How, Why and When?
Crowdfund Insider is the leading news and information web site covering the emerging global industry of disruptive finance including crowdfunding, peer-to-peer / marketplace lending and other forms of Fintech. Our site provides extensive coverage, and industry leading perspective, from a team of staff writers and leading industry expert contributors from around the world. Crowdfund Insider was envisioned and created by dedicated industry professionals and is supported by an independent group of investors.
« Forbes Magazine´s Top 10 Crowdfunding Sites For Fundraising »

At Crowdfunding Focus you will find:
CrowdFund Beat Media International is an online source of news, information, events and resources for crowdfunding. We e-publish latest news and expert view related to the crowdfunding industry in the USA,Canada, UK, Italy, Germany, France, Holland and coming soon in Spain, Australia, Japan and China on a daily basis. With support of a group of crowdfunding professionals and experts, We are including an editorial column to our journal, in order to present a better perceptive on this new industry to our readers. Atcrowdfundbeat.com we think of our effort as an educational and informative service to the crowdfunding community, and appreciate your suggestions to make our work more helpful and efficient. Please check out the CFB Live Crowdfunding. tv or our exclusive interviews video section Crowdfunding Film Festival Annual Silicon Valley Meets CrowdFunders March 3-4 2016 Silicon Valley,
CrowdFunding Who's who, Lists, Data, Analytics, Research, Statistics, Reports
CrowdFunding Conference & Expo World Tour 2016
CrowdFundBeat News Silicon Valley Expo - Conference CrowdFundBeat.com News & Information for Crowdfunding People:
https://www.youtube.com/channel/UCjPrkvmpBwEmEpoWIxhjI6w/featured
LC Media is a boutique agency humming with smart people who passionately propel successful crowdfunding strategies through digital marketing and PR.
What sort of clients do we work with?
While we've worked with some of the biggest names in the crowdfunding scene, we will never lose touch with the inspiring smaller brands that helps make the crowdfunding industry so exciting!
We use the power of our strategy ability for good. We cater to both small and large clients, small and large budgets and small and large projects.
SERVICES: STRATEGY, BRANDING, PR, SOCIAL MEDIA, WEB, ADVERTISING, CAMPAIGN DESIGN & MANAGEMENT
http://www.crowd101.com/crowd-101-blog
Crowd101, your source for information on crowdfunding - from raising money crowd funding to investing in crowdfunding campaigns.

12 Steps to Crowdfunding Success
Two weeks ago millennial travel agency Bohemian Birds has raised €60.000 at a €500.000 valuation from 82 investors within 7 hours through equity based crowdfunding platform Symbid. How did we manage to convince so many investors within the blink of an eye to support our mission to help 10.000 people empty their bucket list by 2020? Based on my own experiences, I am describing the "12 steps to crowdfunding success". This article is most applicable for start-ups that have already generated some online followers.

Forex Alchemy provides a central hub of informative Forex trading related content. Our aim is to inform and inspire. We are passionate about supporting traders on their trading journey and opening their minds to the many possibilities and paths available to them, both as a trader and as a person. We achieve this by bringing together passionate and inspiring voices from across the Forex trading industry to support your trading development and consistency.
THE CROWDFUNDING BIBLE is world's most comprehensive guide to raising money online.
Learn how to launch, market and successfully operate a high-tech fundraising campaign, regardless of your chosen industry, scope or budget. Built for enterprising entrepreneurs and individuals alike, it reveals the secrets to catching the media and public's eye, and convincing fans to support ventures of all types, in a language that everyone can understand.
From books to films, albums, consumer products, video games and even new fashion lines or public events, learn how to craft compelling pitches, assemble an awe-inspiring promotions strategy, and turn potential backers' heads. Written by successful crowdfunders and investors for a new generation of startups, dive in to discover how a brave new world of venture capital and angel investment is waiting at your fingertips.
Features Include:
Best Crowdfunding Websites and Services

Complete Guides: How to Start and Promote Any Project

Expert Tips: Crafting Pitches, Rewards and Marketing Programs

Advice from Today's Most Successful Creators and Campaigns

Handbooks to Building Powerful PR and Social Media Strategies

Key Lessons and Takeaways from Top Hits and Failures

Reviews and Post-Mortems: An Inside Look at the Business
Marketing Beyond Volume is a choice that aligns with my motto, "Think creatively. Act methodically." I work hard to help clients develop strategies that deliver measurable results. Our specialty is marketing the following:
At DIY MUSICIAN you will Discover everything you need to know about music promotion.
Explore hundreds of articles about moving your music career forward!
Your Songs, Our Tools= MUSICAL INDEPENDENCE
25 music crowdfunding mistakes that can make you look like a money hungry fool: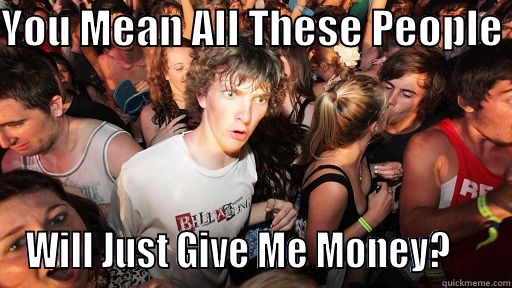 https://youtu.be/a3k0ODFZBYA

Top 5 Crowdfunding Press Release Mistakes

Currently around 20,000 projects fight for the attention of backers and media.

Watch This Before You Launch A Crowdfunding Campaign

A Film Courage Filmmaking Series
[ CLICK HERE TO ENTER THE CROWD FUNDING PLATFORM PORTAL ]
(So you may select the one which may best suit your project)